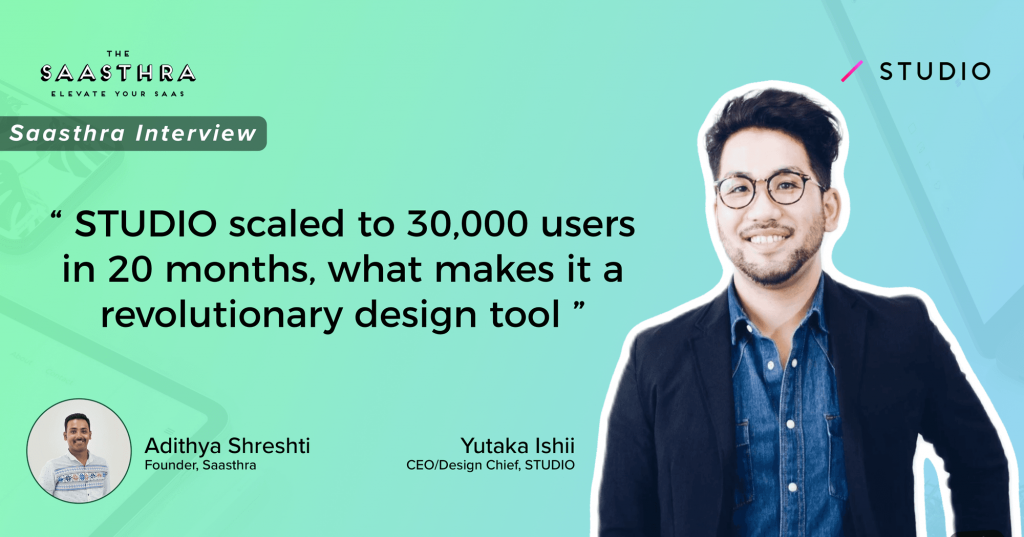 "I am not code-savvy" isn't going to be an excuse that stops you from working on your next big idea and help you test the MVP, create a website or do more with the plethora of tools currently available. One of the best among such tools in recent years is STUDIO Design.
STUDIO is a revolutionary web design platform based out of Tokyo, Japan, headed by Yutaka Ishii and Keima Kai. The company is less than 2 years old but has more than 30,000 users from 80 countries. For it's UI and simplicity, STUDIO was the "Top Product of the Day" on Product Hunt with more than 1500 upvotes.
STUDIO's revolutionary design tool eliminates the need to code your prototypes, you have to just design and hit publish to go live with your stunning web design.
The amazing team, an extraordinary product helped them raise a seed round of 50 Million Yen (that's around half a million US dollars) from D4V (IDEO's venture capital firm), Daiwa corporate investment, and two angel investors.
We had the opportunity to interview Yutaka Ishii, the Founder and CEO of STUDIO, about his journey, building this beautiful product, their team and workplace and more.
Let's talk about your journey in design – where and how did you begin your design career?
I started designing websites for fun when I was a college student over 5 years ago, and then I noticed I enjoyed it and I was good at it. I realized that I could turn it into my full-time job so I created a web design agency with a few friends. During my time as a web designer, I found the design part extremely stimulating but I couldn't stand coding. It was a very tedious task that took away so much of the time that I wish I could dedicate to just designing.
Who is the ideal user for STUDIO according to you?
Someone who like me, doesn't like spending a lot of time coding but still wants to create completely original websites from zero. It is probably a good fit for freelance web designers or small agencies looking to optimize their resources, or even entrepreneurs who would rather create their own original website than using a template.
How do you pitch and differentiate STUDIO from the rest of the products by big players?
We have two types of competitor: website builders and UI design tools.
Website builders such as Wix or Squarespace are based on templates: you cannot make completely original websites and because of that they are not ideal solutions for Web designers.
On STUDIO it is possible to start from a blank canvas and create anything you like freely.
As for UI design tools such as Figma or Sketch, while you have a high degree of design freedom you still need to code after creating a prototype.
On STUDIO, after designing you just need to Publish without having to write any code.
Tell us more about the awesome people behind your product. What does a typical day for your team look like?
We are a very young team of around 10 people based in Tokyo, we all love design and making new things. Our motto is 'unleash your creativity' but also 'work hard play hard'. There is no typical day in STUDIO: we may be holding community workshops, improving our product, doing user research, pitching on a stage in front of hundreds of people.. All in the same day!
'unleash your creativity' but also 'work hard play hard'
What do you look for when you are hiring for someone at STUDIO?
Someone who is passionate about Design, is not satisfied with the current web design process and is excited about rethinking and recreating it with us.
Top 3 reasons for the success of STUDIO?
1. Revolutionary layout method:
It's extremely easy and efficient to create any kind of web design quickly
2. Seamless real-time collaboration:
You can collaborate with your team anytime, anywhere
3. One-click publish:
Put your website live as soon as you finish designing it. STUDIO develops for you.
As a designer, what are your favorite productivity hacks?
Taking time off from work to re-energize: I often go surfing on weekends. Also, always try new things and experiences to get inspiration.
Where do you see STUDIO in one or 5 years time?
Creating websites on STUDIO will become the standard in the industry.
Check out STUDIO Design
They have just lauched Version 2.0 on Product Hunt, check them out!
Join the growing Saasthra community on
Facebook, Telegram and WhatsApp to directly connect with SaaS ecosystem enablers